Let us put you in the spot light with a stunning and user friendly online presence today
Caulfield Grammar School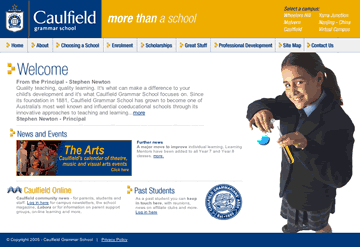 Project in Brief
Disciplines
Design
Production
Strategy
Technology
Components
Content Management System (CMS)
Technologies
ASP
Backend Console
Database (SQL)
Flash
Hosting
JavaScript

Caulfield Grammar School had assessed their programs and marketing methods and concluded that an integral part to achieving particular goals was to implement a new, fresh and exciting website that lead the way for schools.
This approach allowed for eFirst to work closely with Caulfield Grammar School in designing and developing a fantastic site that would work along side their marketing campaign but also allow staff to update the website when necessary.

eFirst developed a dynamic site utilising various mediums that was informative and ever changing.