Let us put you in the spot light with a stunning and user friendly online presence today
Neco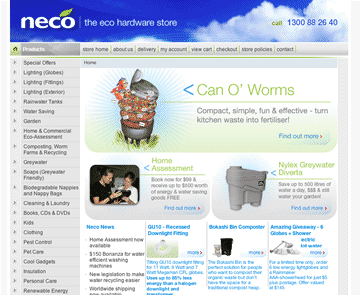 Project in Brief
Disciplines
Components
Technologies
ASP
Database (SQL)
HTML
JavaScript

Neco is now and will continue to grow as, the leading Australian specialist service provider in energy and water conservation, for residential and commercial settings.
Neco was founded in March 2004 in response to the ever-increasing pressure that the modern economy places on the environment. Neco is now Australia's leading online eco store, with over 25 staff located in Sydney and in excess of 500 eco products on offer.

eFirst hosting provides services for the website, while our developers have custom developed an eCommerce-based shopping cart, hooked directly into Neco's St. George banking account, ensuring customers can purchase products from Neco anywhere in the world, 24 hours a day, 7 days a week.

Integration into Neco's own Attache-based accounting backend makes keeping track of sales and orders simple, cost effective and removes ambiguities resulting from human error.

During the current phase of development, eFirst will be directly integrating the shopping cart system into the AUS POST eParcel, allowing Neco to automatically generate parcel consignments.