Let us put you in the spot light with a stunning and user friendly online presence today
Maranello Motorsport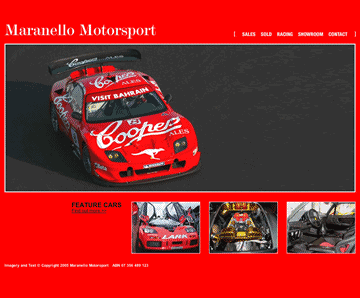 Project in Brief
Disciplines
Design
Production
Strategy
Technology
Components
Content Management System (CMS)
Technologies
ASP
Backend Console
Database (Access)
Hosting
JavaScript

eFirst were approached by Maranello Motorsport to produce an online catalogue that allowed them to reach a global market. Accommpanying strong Ferrarri branding is a sophisticated online catalogue system that allows new cars to be posted and then archived to the sold section once purchased.
Quality is the experience that site users expect and demand - quality is what Maranello Motorsport deliver to their client, and their web site is no different.

Every aspect of the site development was carefully measured for ease of use, visual clarity, intuitive navigation, and fast performance.