Let us put you in the spot light with a stunning and user friendly online presence today
Vantex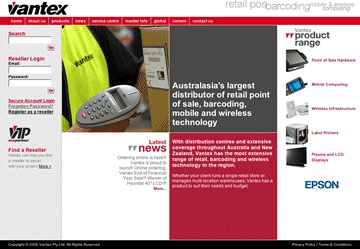 Project in Brief
Disciplines
Design
Production
Strategy
Technology
Components
Content Management System (CMS)
Online Store
Technologies
ASP
Backend Console
Database (SQL)
Flash
Hosting
HTML
JavaScript
SSL

If you are a reseller in the POS market, then you know who Vantex is - the largest wholesaler of POS and Retail Systems in Australia and New Zealand.
With an extensive reseller network, Vantex required a solution that would allow customers to select products and purchase these from their extensive reseller network. Resellers have access to their own Admin for rapid product selection/purchase.

The Vantex solution includes powerful email management systems, brochure publishing and Channel communications, all integrated in a professional and fast loading design.