Let us put you in the spot light with a stunning and user friendly online presence today
Law Institute of Victoria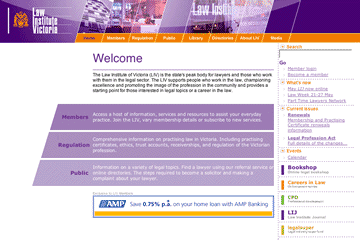 Project in Brief
Disciplines
Design
Production
Technology
Components
Content Management System (CMS)
Technologies
ASP
Backend Console
Database (SQL)
Hosting
JavaScript
SSL

The Law Institute of Victoria (LIV) is the peak body representing lawyers in Victoria and is linked to all state bodies.
eFirst have implemented high level processing systems at the LIV bookshop, allowing members (and public) to purchase publications online, members to enrol and purchase 'Continuing Professional Development Courses', manage their CPD member points, as well as a full online employment Advertising/Recruitment systems for the legal profession. Job hunting for the legal profession has never been easier to manage.

The LIV has been dramatically transformed from a paper based organisation to high efficiency online based systems that provide immediate access to member resources widely distributed with a minimum of effort.