Let us put you in the spot light with a stunning and user friendly online presence today
Melbourne Film Festival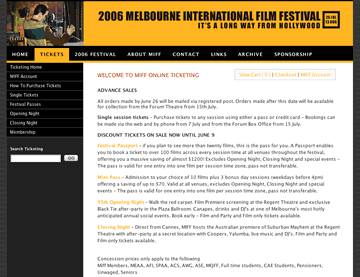 Project in Brief
Disciplines
Components
Technologies
ASP
Backend Console
Database (SQL)
Hosting
JavaScript
Objective C
SSL

The Melbourne International Film Festival is the longest running film festival in the Southern Hemisphere, and features over 400 film sessions over a three week period each July/August.
Now in its 60th year, the festival has grown strongly over the last 8 years since eFirst has been associated with ticketing. This year, eFirst introduced a new ticketing system which included integrated Point of Sale terminals, manual and automated phone sales and web sales.

Local servers provide local ticket office support with network load balancing to share traffic in the event of machine or operating system failure. Hardware includes RAID drive arrays and other features essential for continuous up time. A large number of point of sale terminals allow for front counter and back office (manual) phone sales.

A remote database and web site provide web sales and real time credit card authorisation via a redundant high speed internet connection. Compression technology on the web site ensures that the site operates quickly, even over slower connections.